Prof. Dr. Georg Trogemann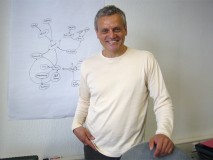 Biography
Since 1994, Georg Trogemann has been Professor of Experimental Informatics at the Academy of Media Arts in Cologne. In 1997-1999 and 2004-2006 he was the Academy's Vice-Rector of Research and Infrastructure.
His main research interests are Art, Philosophy of Technology and Theory of Artefacts.
Georg Trogemann was born in Bamberg in 1959. From 1980 to 1986 he studied computer science and mathematics at the University of Erlangen where he specialized in automatic image and speech recognition. Before that he was apprenticed to a joiner (1974 – 1977). From 1986 to 1990 he was a research assistant at the chair of operating systems at the University of Erlangen concerned with theoretical research into supercomputers for numerical applications, especially multi-grid processes for partial differential equations (SUPRENUM). In 1990 he earned his doctorate on modelling and evaluation of parallel programs for massive parallel computers. From 1990 to 1992 he was a member of the artistic and academic staff at the Academy of Media Arts Cologne specializing in computer graphics and animation.
In 1992-1993 he co-developed the smdk project (simulation space mosaic of mobile data sounds) with the Knowbotic Research artists group. The project won the Golden Nica Award for Interactive Art at the 1993 Ars Electronica Festival in Linz. In 1993 he went to England for a 12-month research visit. From 1999 to 2005 he set up and conducted businesses of the "Laboratory for Mixed Realities (LMR)", an independent research institute, and until March 2005 was it's Scientific Director. In 2003 he co-founded plan_b Media AG, a company located in Cologne, which he managed until 1999 and headed as a member of the Supervisory Board in 2000-2002. The company was taken over by MindMatics AG in 2005. In 2006 he founded Grassroots Arts Limited. In 2007 he was appointed member of the Board of Trustees with the Fraunhofer Institute for Intelligent Analysis and Information Systems (IAIS).
On Topic (unpublished Material)

© 2014, Die Fülle des Konkreten am Skelett des Formalen
Über Abstraktion und Konkretisierung im algorithmischen Denken und Tun (pdf)
© 2013, Biological machines and the mechanization of life  (pdf)
© 2013, Die sizilianischen Förster – Gedanken zum aktuellen Verhältnis von Technik und Gesellschaft  (pdf)
(Publications until 1997 under the name Fleischmann)