Science Kitchen III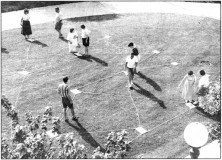 This summers' Science Kitchen is about the main topic of
Lateral Drift.
In open discussions we are dealing with interactions between technology and society, of interdependencies between facts and fictions of machines. We move laterally into this semester, we do not follow a common thread, but rather the ramifications of knowledge.
In his book "Zen and the Art of Motorcycle Maintenance" Robert M. Pirsig uses the concept of lateral drift and thus describes the search of the protagonist Phaedrus for alternative truths. Lateral knowledge is knowledge coming from a completely unexpected direction, from a direction you did not even recognize as a direction.
We dedicate ourselves to remote phenomena that we perceive rather out of the corner of our eyes and explore our senses of tastes and smell in double blinded experiments. With this procedure we also approach pop phenomena, dance fashions on youtube, media and network effects in a global context and in metropolitan outskirts.
Part of our kitchen talks with guests and in kitchen experiments, our idea is to expand knowledge and make room for imagination and the occurrence of improbabilities.
Science Kitchen 13: Introduction to "Lateral Drift"
Science Kitchen 14: Guest Lecture Linda Hilfling
Science Kitchen 15: Guest Lecture Boris Sieverts
—
Im Seminar Science Kitchen befassen wir uns in einem offenen Gespräch mit den Wechselwirkungen zwischen Technik und Gesellschaft und diskutieren über  Fakten und Fiktionen von Maschinen.
Dabei bewegen wir uns in diesem Semester lateral, wir folgen keinem roten Faden, sondern den Verästelungen des Wissens.
In seinem Buch Zen und die Kunst ein Motorrad zu warten  verwendet Robert M. Pirsig den Begriff der lateralen Drift und beschreibt damit die Suche des Protagonisten Phaidros nach alternativen Wahrheiten. Laterales Wissen ist Wissen aus einer ganz unverhofften Richtung, aus einer Richtung die man nicht mal als Richtung erkannt hat.
Wir widmen uns abseitigen Phänomenen, die wir eher aus dem Augenwinkel wahrnehmen und erkunden doppelt blind unsere Geschmack- und Erfahrungswelt. Mit diesem Vorgehen nähern wir uns popkulturellen Phänomenen, Tanzmoden auf Youtube, Medien- und Netzwerkeffekten im globalen Kontext und den Randgebieten der Metropolen.
Im Küchengespräch mit unseren Gästen und in Küchenexperimenten wollen wir unser Wissen verbreitern und Raum schaffen für Imagination und das Eintreten von Unwahrscheinlichkeiten.
—
more about Science Kitchen I
more about Science Kitchen II
—
Image: Teachers attending the MATHmaniaCS workshop on the University of Illinois campus walk through a computer circuit demonstration, 1998.
Guest Lectures
›
Science Kitchen 15
›
Science Kitchen 14