Science Kitchen 14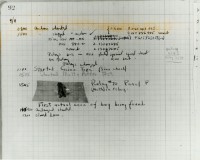 We welcome Linda Hilfling as guest to our science kitchen.
Of Bugs and Misses
The talk traces connections between the cybernetics of the 1960s, the world wide Y2K millennium bug paranoia and India's outsourcing boom. A narrative emerges exploring how local spatialites in the West are materially dependent on a complex mixture of 'undead' machines and software.
Danish artist and critical designer Linda Hilfling, works with the premises of participation and public space within media structures, with a focus on means of control (codes, organisation and law) and their cultural impact. Her artistic practice takes the form of humorous interventions reflecting upon or revealing hidden gaps in such structures. Linda was also co-director and initiator of the media archaeological festival, the Art of the Overhead. Currently she is a doctoral candidate in Interaction Design at Malmö University, Sweden.