Science Kitchen starts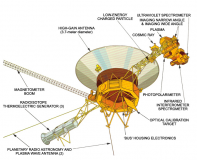 The seminar Science Kitchen starts with a guest lecture by by Miha Turšič, Špela Petrič, Jerneja Rebernak about Voyager 3/AS (autopoietic system), a project in the field of space culturization, bio- and computing art:
"The space probes Voyager 1 and 2 are the only manifestations of humanity so far that have travelled beyond the edges of the heliosphere. They were launched into space in 1977 and a decade later flew past the most distant planets in our solar system.
As their distance to the Earth increases, their pivotal role as agents of scientific exploration of our solar system and interstellar space becomes inscribed by a different purpose; they impel a humanistic discourse on the relationship between man and technology, between the self and its emancipated parts. To reach a relevant level of discourse the technology must, however, have certain intrinsic complexity as well be equipped with sensors, processing power and effectors, which can lead to a functional state of self-awareness in space and time.
We begin to apply the current knowledge of resilient self-organizing systems to the construction of the next generation of Voyager. We foresee Voyager 3/AS as the simplest entity, which can withstand the conditions in outer space, but with the ability to adapt, if it encounters environmental changes; made up of a self-repairable matrix, coined from autonomous technology and simple living (or life-like) systems; working in a symbiosis to absorp entropy and fight decay.
The project also stands as the reflection of the existing human activities in outer space (in philosophy, aesthetics, studies of technology, social sciences, etc.). Using Voyager 3/AS as a pivotal, original and very recognizable product of human civilization, the project Voyager 3/AS initiates a critical and fruitful debate between different creative communities – between artists, scientists and technologists."
Excerpt of a text by the initiators of the project: Miha Turšič, Špela Petrič, Maja Murnik
The image shows a diagram of the voyager 2 space probe launched in the year 1977.
—
Biographies
Miha Turšič (1975) finished industrial design studies at the Academy of Fine Arts in Ljubljana in 1999. In a period from 1995 to 2005 was involved into worldwide product and brand development. From 2004 was actively involved in space culturalization, designing zero-gravity dwellings and postgravity art in collaboration with Dunja Zupančič, Dragan Živadinov and Yuri Gagarin Cosmonauts Training Centre in Russia.
In his career he co-founded several institutions in field of research, development and art. Currently he is a director of KSEVT (Cultural Centre of European Space Technologies) and is focused on developing a Cultural Space Program. /www.ksevt.eu, www.postgravityart.org
Dr. Špela Petrič (1980), BSc, is currently finishing her masters degree in Transmedia at LUCA in Brussels, Belgium. Her artistic practice combines natural sciences, new media and performance. She is interested in all aspects of anthropocentrism; the reconstruction and reappropriation of scientific methodology in the context of cultural phenomena; living systems in connection to inanimate systems manifesting life-like properties; and terᴿabiology, an ontological view of the evolution and terraformative process on Earth. While working towards an egalitarian and critical discourse between the professional and public spheres, she tries to envision artistic experiments that produce questions relevant to anthropology, psychology, and philosophy. She extends her artistic research with art/sci workshops devoted to informing and sensitizing the interested public, particularly younger generations. She is a member of Hackteria.
Projects and collaborations/ Humalga:
Towards the Human Spore (art-research project, co-author Robertina Šebjanič 2012-), Circadian Drift (installation, co-author Maja Smrekar, 2012), MaSm Metatransformation (collaborator in the project of author Maja Smrekar, 2011), CTCAG recognition (performance, 2011), Futuro autopoeisis (collaborator in the project of author Robertina Šebjanič, 2010), Cladocera (instalation, 2010), Avtobiografija-diskografija (gallery performance, author Samo Gosarič, 2008).
Jerneja Rebernak (1981) is the programme manager of KSEVT (Cultural centre of European space technologies). Her professional career lead her to Singapore in 2008 where she joined the Cultural department of the Asia-Europe Foundation. She closely monitored projects in China, India, Indonesia, Malaysia, Thailand and the Philippines.  Jerneja mainly managed the multi partnership diplomacy-led Cultural Embassies programme between 2011-2012  for the European Capital of Culture – Maribor 2012.
During her research Masters programme in Media Studies at the University of Amsterdam she has collaborated with the Institute of Networked Cultures and has worked as Intern at the Youth and Media department of the European Cultural Foundation. She has recently attended the expert meeting on cultural mobility organized by Roberto Cimetta Fund in Beirut, Lebanon. She holds a BA in Communication science from the University of Ljubljana. Jerneja has also lived in Italy, USA and the Czech Republic.
—–
——
Science Kitchen presents facts and fictions of machine.
Diverse lectures/presentations and experiments will be converging on the topic, linked to science and science fiction as reference points.
In the seminar we will look upon scientific and artistic research areas, observing artifacts like space probes, discussing ideas of machine/technologization and rituals or systematics surrounding these, prosthetics as part of the human body and mind, molecular cuisine as algorithmic experiments….
Science Kitchen in its evening format will be established as a series of seminars, continued in following semesters.
—
Dates
on wednesdays, every two weeks 18:00 h at Lab3
17th April Prequel: Guest Lecture by Miha Turšič, Špela Petrič and Jerneja Rebernak about the project Voyager3/AS (Autopoietic System)
24th April Start of the seminar with introductionary topics
David Hahlbrock delving into Food Processing, Karin Lingnau introducing Science Fiction and/in History, Georg Trogemann talking about Cargo Cult.
08th May a short introduction by Clemens Kujawski and his guest Dr. Reinhard Leidl, including a round of discussion to a subtopic of Quantum Physics: wave-particle duality and decoherence.
22th May Thoughts by Christian Faubel about the facts and fictions of food (and) machines: What do you want to eat? Or: "l'aile ou la couisse?"
12th June Julia Scher and her notion about alien landing pads and the future
19th June Molecular cuisine en masse
10th July Karin Harrasser about Space Dandies and Technohermaphrodites.
please watch out for postings at lab3 and on our website!
or contact Karin Lingnau