CubeBrowser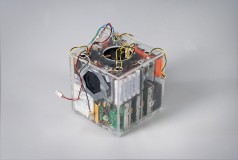 CubeBrowser is the concept study for a six display cube with digital screens that makes it possible to browse online databases like Flickr.com. The control of navigation is exclusively accomplished by performing manual actions on the object, which creates a playful way of discovering image collections that are networked by tags.
Ludwig Zeller finished the CubeBrowser as his diploma thesis in "Audiovisual Media" at the Academy of Media Arts in Cologne. Originally, this project has been started as a group piece of Andreas Muxel, Charlotte Krauß and Ludwig Zeller.
Enjoying photos has always been based on analog objects before digital imaging came up. Discovering your photosets with friends was not tied to a monitor, but to analog photos that were probably cluttered all over the floor: tangible as well as easily showable and sharable.
Why not bring back this easiness and combine it with the benefits of digital technology? The CubeBrowser is running independent of the desktop, where we are usually experiencing web media today. It is also not bound to a screen that is controlled by mouse, keyboard or remote control, which distracts you with overloaded functionalities and would be hard to learn. Controlling the CubeBrowser is just as easy as turning the cube in space, and thus allows for a more convenient way of interaction as well as a larger accessibility to people of all ages and abilities.
Videodocumentation
http://interface.khm.de/wp-content/uploads/2008/10/cubebrowser.flv
Events
›
PLATINE festival Cologne
›
CubeBrowser at Museum für Angewandte Kunst Köln
›
Cognition on the Edge
›
CubeBrowser at CHI 2009
›
CubeBrowser at V2_ Test_Lab:Artistic Interfaces
Awards
›
Three projects from Lab3 nominated at FILE PRIX LUX