New Visibilities?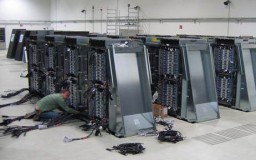 "Insights" at the interface between algorithms and aesthetics
Within the seminar we visit research institutions that develop the visibilities of the future: at the Jülich Supercomputing Centre (featuring the fastest computer in Europe), Fraunhofer IGD and Fraunhofer FIT we get in touch with the technologies, methods and aesthetics of state-of-the-art research and meet some of the scientists behind these projects.
Students who want to take part in these excursions are obliged to attend the first meeting on Monday, April 11th, 2 p.m. at Lab3.
Aktuelle Forschungsvorhaben auf dem Gebiet der Visualisierung, Simulation und Virtual Reality versprechen 'scharfe Blicke ins Gehirn', 'user-friendly, three-dimensional visualisation' oder das Erkennen von Strukturen in 'atomarer Präzision'. Über die Sichtbarmachung des für das bloße Auge nicht Wahrnehmbaren hinaus dienen visuelle Darstellungen, z.B. Modellierungen von Proteinen oder geografischen Informationen, selbst als Forschungsobjekte und Erkenntnisinstrumente.

Das Seminar nähert sich verschiedenen vermeintlich 'neuen Sichtbarkeiten' durch Exkursionen sowie deren Vor- und Nachbereitung. Geplant sind Fahrten zum Fraunhofer-Institut für Graphische Datenverarbeitung (IGD), zur Jülich-Aachen Research Alliance, dem Jülich Supercomputing Centre und anderen Institutionen. Vor Ort können die Teilnehmerinnen die apparativen und technologischen Voraussetzungen, die medientechnischen Operationen sowie die spezifische Ästhetik der generierten Visualisierungen kennenlernen und in Kontakt mit den Akteuren kommen.
Zeitplan
Montag, 09.05.2011
Fraunhofer Institut für Angewandte Informationstechnik (FIT), St. Augustin
Abteilung Kollaborative Virtuelle und Augmentierte Umgebungen
› Mobile Augmented Reality Systeme und Games
Montag, 30.05.2011
Fraunhofer Institut für Grafische Datenverarbeitung (IGD), Darmstadt
Abteilung Graphische Informationssysteme
› DEEP CITY 3D
Abteilung Virtuelle und erweitere Realität
› ANSWER: Artistic-Notation-based Software Engineering for Film, Animation and Computer Games
› CAVE
Montag, 11.07.2011
Institut für Neurowissenschaften und Medizin: Strukturelle und funktionelle Organisation des Gehirns
› Architektonik und Hirnfunktion
Jülich Supercomputing Centre
› Jülicher BlueGene (JUGENE)
› Abteilung Visualisierung