Science Kitchen 18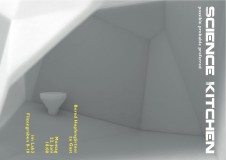 Invitation to our continuing discussion and insight into the ideas of possible, probable, preferred, the strategies we are following ourselves for artistic and/or scientific reasons.
Bernd Hopfengärtner will be our guest and he will look at scenario techniques from the perspective of his own work.
Monday, 22nd June 2015
18:00 h
Lab3
—
This semester we continue our series Science Kitchen as a feature-length format with lectures, reviews, and interviews. The focus of our considerations are future-oriented topics which are set in the interplay between possible, probable, preferred. Abstract and precise perspective on futures, the accumulation and utilization of data (fictional or actual), the thus emerging aesthetics and morphologies lead us to questions of global and local views – and how we change with it.
How are we influenced in our actions and decisions through the dissemination of knowledge, which varies between conjecture and extrapolation, which blurs the boundaries and distinctions of scenarios based on alleged facts and fictions. What kind of interfaces emerge for us between technology, economy and culture? How do we influence these interfaces through artistic and technical practices and concepts? What are the ethical, economic and cultural acts arising from these interdependencies?
The seminar takes place in irregular sessions.
Current dates will be announced on our website, on our door and via the newsletter.
If you would like to receive the newsletter, write to
sciencekitchen //at // khm.de
—
In diesem Semester setzen wir die Reihe Science Kitchen als abendfüllendes Format mit Vorträgen, Rezensionen und Gesprächen fort. Schwerpunkt unserer Betrachtungen sind zukunftsorientierte Themen, die sich im Spannungsfeld der Begriffe possible, probable, preferred bewegen. Abstrakte und präzise Blickwinkel auf futures, die Anhäufung und Verwertung von Daten (fiktiv oder faktisch), die daraus entstehenden Ästhetiken und Morphologien führen uns zu Fragen globaler und lokaler Anschauungen – und wie wir uns damit verändern.
Wie werden wir in unseren Handlungen und Entscheidungen durch die Verbreitung von Wissen beeinflusst, das zwischen Vermutungen und Extrapolation schwankt, das die Grenzen und Unterscheidungen der auf vermeintlichen Fakten und angeblichen Fiktionen beruhenden Szenarien verwischt? Welche Schnittstellen entstehen für uns zwischen Technik, Ökonomie und Kultur? Wie beeinflussen wir diese durch künstlerische und technische Praktiken und Konzepte? Welche ethischen, ökonomischen und kulturellen Handlungsmomente ergeben sich aus diesen Interdependenzen?
Das Seminar findet im unregelmäßigem Rhythmus statt. Aktuelle Termine werden unter http://interface.khm.de angekündigt.
Newsletteranmeldung: sciencekitchen // at //khm.de
—
The image shows a detail out of the work "Extra Room" by Bernd Hopfengärtner in collaboration with Gunnar Green, 2009