Rundgang 2014 at Lab3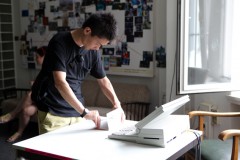 Some photos of the works presented at the "Rundgang" at Lab3 in july 2014.
Breathing space, alien hug machine, moving magnets, laptop-instrument and a return of fossil robotic creatures…
Works and experiments created at Lab3 question technologies, their aesthetics and socio-cultural contexts. Workshop results, makeshifts, experiments and epistemic objects are part of the presentation during the Rundgang 2014, allowing a look behind the scenes and onto technological premises of the academy of media arts.
This year were presenting at Lab3: Hanna Faber, Alexander Gurko, Maurits Boettger, Nieves de la Fuente Gutiérrez, Judith Bornmann, Anna Baydak, Kim Mayer, Tina Rietzschel, Damian Weber, Sebastian Jazura, Christoph Kilian.