Marcel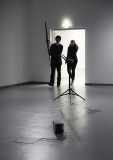 A parallelogram windscreen wiper in constant motion, mounted on a tripod — its name referring to Duchamp, Broodthaers and the pantomime Marceau.
Aus dem Programm der Ausstellung ECHORAUM – sechs minus:
Im Pyramidenraum verändert die kinetische, raumgreifende Skulptur Marcel von Christoph Kilian durch die permanente Bewegung das Raumgefühl. Auf ein Stativ montiert, wird ein Parallelogrammscheibenwischer zweckentfremdet und neu definiert. Der Name "Marcel" weist auf zahlreiche Vorgänger dieser künstlerischen Praxis hin, etwa Duchamp oder Broodthaers, aber auch auf den Pantomimen Marceau.